HOUSE CLEARANCES
MADE EASY!

We specialise in house clearances, office clearances, garden clearances etc. Whether it 's just one item or the entire contents of a house, we do the lot. Experienced, friendly, uniformed team.
IT'S AS EASY AS
ONE, TWO, THREE

1. You call us
2. We give you a free quote
without obligation
3. We do the job at a time
that suits you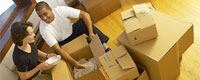 | | |
| --- | --- |
| | We have over ten years experience providing services to both private customers and businesses. |
| | |
| | |
Parking Dispensation reduces the costs of clearances
The costs of house clearance and removal work is affected by the labour required. The further the vans are from the property being cleared, the longer it takes. That's why we arrange parking dispensation when possible for our clients. Alternatively you can contact the council the property is located in, and speak to their parking department.

When dispensation isn't an option
However, sometimes it may not be possible to arrange dispensation. Often there is no suitable parking bay near the property. Or there isn't enough lead-time to arrange dispensation (usually five working days notice is required). In such cases we park at the nearest pay-to-park location, prepare a load (packing, and taking down ready to load), and bring the truck around to the nearest safe area by the property and load quickly. Most councils, including Westminster, The Royal Borough of Kensington and Chelsea, Camden, Islington and Wandsworth allow about 30mins loading time for clearance / removal trucks if loading is clearly occuring. This process can be repeated as often as required.